Blue Atmosphere has developed a new control system for Controlled Atmosphere storage that is unique in its kind. The layout is based on the following requirements:
 Minimum 50% savings on labour and installation materials through decentralization of the control system;
 Standardization of control boxes, however tailor-made solutions remain possible;
 A far-reaching improvement of stability and reliability by using industrial components;
 Simplification of installation work and service;
 Easy to expand and suitable for replacing existing installations;
 Communication with other software packages by using common communication protocols (for example when integrating with cooling control);
 Improvement of user-friendliness through progressing automation (algorithms and PID controls) and diagnostics;
 Suitable for cold stores and pallet covers (FreshMAP).
The new system is modular, and consists of four basic elements:
  A Gas analysis cabinet with controller;
  A control box for every 2 cold stores;
  A controller in every machine;
  The SCADA Reliance userinterface
The controllers and SCADA together form a network.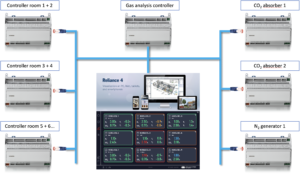 Hardware and software
Our software runs on Siemens Climatix controllers. These controllers excel in reliability and offer more programming options than a PLC. For service inquiries, Blue Atmosphere is backed up by the software producer. Updates can be taken automatically if the customer gives permission.
Reliance is a professional SCADA (Supervisory Control And Data Acquisition) system designed for the visualization and control of industrial processes (Reliance). Reliance is used worldwide in a broad range of industrial processes. Customer feedback plays a critical role in the development of our SCADA system. Reliance is agile, reliable, but above all robust. Reliance's user-friendliness is highly regarded. The system is fast, intuitive and pleasant to work with.
Gas analysis
Gas analysis usually takes place centrally in a gas analysis cabinet. As a standard, we use a long-life galvanic cell (range 0-25%) for oxygen (O2) measurement, and a so-called dual wave NDIR sensor (standard range 0-5%) for CO2.
The gas analysis cabinet can also be equipped with optical sensors. These are more durable, more accurate (especially in the low range), and only require calibration a couple of times per year.
The gas analysis cabinet can optionally be equipped with an ethylene sensor (C2H4). These sensors are available in different ranges down to the low-ppb range.
Cold store control box
A cold store control box controller is placed on the dividing wall between two cold stores. The controllers are interconnected by a:
 230 VAC power cable;
 Central gas sampling tube;
 Standard Ethernet cable.
Because a cold store control box is always placed close to cold store valves and aeration fans, very little wiring is required during installation, and therefore risks can be kept to a minimum. The measuring valves of the two cold stores are integrated in the control box. In short, installation is quick, and the system can largely be tested before shipping. The control boxes can be easily exchanged, because all connections can be easily disconnected.
Blue Atmosphere offers various options for measuring and controlling gas conditions, whereby a control box is always placed for every 2 cold stores. The most commonly used basic version (Bronze) is suitable for standard Controlled Atmosphere storage. Control the room controllers:
 Measuring valves for sampling gas;
 Cell valves for CO2 removal;
 Cell valves for N2 addition;
 Aeration fans.
Silver is an extended version of the room controller. It offers, for example, the possibility to set a temperature pilot per cold store, or to have up to 2 temperaure sensors per room.
Gold is the most comprehensive, standard version of the room controllers. Because all control boxes are equipped with a Climatix, much more is possible, such as:
 Control of humidification units (our software directly controls these units);
 Condensation water loss analysis;
 Relative humidity measurement;
 Pressure measurement;
 Door contact for safe gas conditions;
 Cell valves valve contacts for an ethylene decomposer;
Finally, Blue Atmosphere offers tailormade cold store controllers (Platinum). In addition to Controlled Atmosphere, these can, for example, control cooling at the cellular level: multiple temperature sensors, contacts for cooling control, ventilation and defrosting. Our SCADA userinterface is then used for both Controlled Atmosphere and the cooling system. Many cooling companies use SCADA, which makes integration easy. Most cooling controls can communicate with the Blue Atmosphere control via a Modbus protocol.
Machine controllers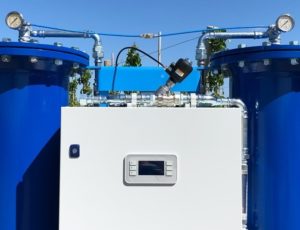 Our gas filtration machines – CO2 absorbers, N2 generators and ethylene decomposers – are equipped with a Climatix controller. They can therefore function standalone (all machines can control cell valves). The machine controllers improve operational reliability. The software is equipped with algorithms that improve the efficiency of gas absorption and regeneration. Analysis of gases in our machines feeds these algorithms. For this reason, Blue Atmosphere machines have 20-30% more capacity. Machines are always equipped with an HMI.
Technical specifications
 All room shutters for both CO2 absorbers as N2 generators run at 230 VAC.
 Aeration fans (230 VAC) are suitable for deconditioning a room.
 Each room controller has its own power supply and fuse.
 A Climatix controller can measure and control 50 rooms with Modbus extensions (Bronze and Silver).
 A maximum of 15 Climatix controllers can be connected in series (

Gold

and

Platinum

).
SCADA Reliance is supplied on an industrial PC with screen and printer.
The gas analysis cabinet is equipped with a VPN router.